HOME
PLANETS
PAGE
LAST
DRAWER
LAST
IMAGE
NEXT
IMAGE
NEXT
DRAWER
MORE
TEXT
IMAGE
INFO
LINKS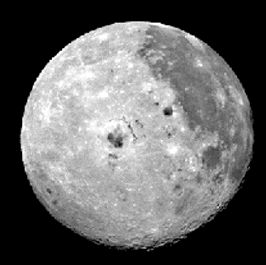 THE EARTH'S MOON
Though smaller the Earth's Moon is of comparible size to the Earth. Other satelites in the Solar System are much smaller than the planets they orbit (with the possible minor exception of Pluto/Charon). In fact the Moon could be and sometimes is classified as a terrestrial planet. The terestrial planets are Mercury, Venus, Earth and Mars.

The Moon does not have an atmosphere. But Lunar Prospector found evidence that there is water ice in some deep craters near the Moon's south pole. The Moon's crust averages 68 km thick but varies from virtually zero at Mare Crisium to 107 km near Korolev on the far side. Below the crust is a partially molten mantle. There is probably a small core (about 2% of the Moon's mass). The Moon's center of mass appears to be offset from its geometric center by about 2 km toward the Earth; which is where the crust is thinner.

The lunar surface consists of very old and heavily cratered highlands and the relatively smooth and younger maria. The surface is covered with a mixture of fine dust and rocky debris produced by meteor impacts; this is called regolith. The maria are very large impact craters that flooded with molten lava. The maria are concentrated on the Earth side, although we don't know why. However the Moon also has the largest known impact basin in the Solar System and this is on the far side. The South Pole-Aitken is 2250 km in diameter and 12 km deep.

After our own planet, the Moon is the best known body in the Solar System. It has been visited by spacecraft since the Soviet Luna 2 in 1959 and is the only body so far visited by humans. The Apollo program's first landing was on July 20, 1969. 382 kg of rock have been brought to Earth by the Apollo and Luna programs. Most rocks on the surface of the Moon seem to be between 4.6 and 3 billion years old. This is very valuable, as rocks on Earth are rarely more than 3 billion years old. So the Moon provides evidence about the early history of the Solar System prior to that available on Earth. It is believed that the moon was created when the Earth collided with a very large object (at least as big as Mars) and that the Moon then formed from the ejected material.

The Moon has no global magnetic field and no atmosphere so it's surface has been exposed directly to the solar wind for over 4 billion years. In this time ions from the solar wind have become embedded in the Moon's soil. This is why samples of regolith returned to Earth have been used in studies of the solar wind.