......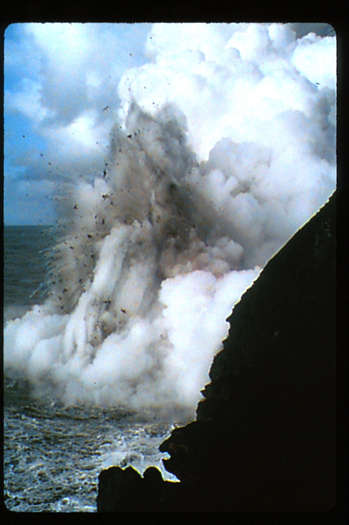 set: volcanoes // series: lava entering sea // picture: ExplosionsKamokuna
Surtseyan explosions arising from the pouring of hot basaltic lava into the sea at Kamokuna, Hawaii.
Basalt lava erupts at a temperature of about 1200ūC. When it flows into water (<100ūC) at shallow depths, rapid heat transfer often causes the water to boil instantly. Because steam occupies a much larger volume than the same mass of water, this boiling may generate dramatic explosions, like the one seen here. The white part of the cloud consists of water vapour and droplets condensing from steam. The darker regions of the cloud also contain glassy basaltic ash created by the explosion; some larger fragments of chilled lava thrown up by the force of the explosion can also be seen. The lava flow responsible for these explosions is obscured by a small headland in this picture.
Such explosive interactions between lava and water are called surtseyan eruptions, after the recently formed island of Surtsey off the southern coast of Iceland.

. . . . more